Our Rates
Book here to get the best rates available. For some of the specials, you will have to call us at 262-248-4006 to get the adjusted rate.  You can always call us during typical business hours which are 9-5 daily.
We are a bed and breakfast, so you will receive a complimentary Bed and Breakfast experience, including a cheese plate and a beverage on arrival. A delicious continental breakfast is personally delivered to your door each morning and can be tailored to your dietary needs.  Some dietary modifications may require a surcharge due to the expense of the substitutions.  Be sure to inquire if you have any questions.
Specials – Don't forget to  check our Specials Page for current offers.
*Rates are quoted per room , per night and do not include tax (10.5%). Please check the reservations page for our current cancellation policy.
Summer 2019-Fall 2019

(July 1st-October 31st)
One Bedroom
Winter 2019-2020 Spring 2020

(November 1, 2019 – May 31, 2020)
One Bedroom
Summer 2020-Fall 2020

(July 1st-October 31st)
One Bedroom
*Rates do not include Sales Tax (currently 5.5%) or City Room Tax (currently 5.0%).
**Until 3 days prior there is a two night minimum for weekends (including Sunday night when Monday is a holiday). If Holidays occur midweek, July 1st- 4th, New Year, Memorial, Labor day these will be charged at weekend rates, unless specials are offered.
Please checkout our Specials page for additional savings.
There is a maximum of 2 adults (over 21) in a one-bedroom suite , and 4 adults in a two-bedroom suite. No children (under 21), no pets, no smoking.
Wireless Internet access is available free of charge, use of wireless internet is not recommended for business users.
Some of our travel partners offer a room only rate. This rate does not include breakfast or cheese and wine on arrival.
Holidays and dates that coincide with Lake Geneva events sell out quickly.
Cancellations:  at booking, a 50% deposit is taken.  If you cancel anytime up to ten days prior to your reservation, a 10% cancellation fee of the total expected stay is withheld to cover our costs.  If you cancel between 3 days prior and 10 days (the window) the entire 50% deposit is withheld.  If you cancel with less than 3 days notice, the entire 100% will be charged.  HOWEVER, if you call us and reschedule your stay, we rarely charge any penalty.  We would so much rather have you with us.
SPECIALS – please see our specials page for current offers.
Extras
In-Room Massage
The team from Lake Geneva's own Element spa will treat you to 60, 90 or 180-minute in-room massage.  They will also provide couples simultaneous in-room massage if desired.  This extra requires a minimum of one week for advanced scheduling, and it is recommended that you visit our partners at Element Massage Studio to make these arrangements.  Prepayment may also be required.
Flowers
Celebrating something special?  We can help set the mood with a fresh flower bouquet, a dozen roses, a single rose, rose petals, you name it.  One week advance notice is appreciated. Prices vary.
Champagne upgrade
Upgrade your arrival bottle of wine to Champagne or sparkling wine.  We can also provide other baked treats from our area bakeries and specialty items, like chocolate covered strawberries.  One week advanced notice is appreciated.
Full Romance Special
Want to mark a special date with us?  How about adding our popular Romance Special. You will get a small Floral arrangement in the room (to keep) upon arrival, rose petals around the bath, our traditional welcome amenities including a bottle of wine, beer or soft drinks in a bucket with ice ready for your enjoyment. In addition, a first-morning mimosa with breakfast, a first evening delivery of chocolate covered strawberries, and a farewell digital photo of you at your cottage to have as a remembrance after you leave!  This romance special can be added for just $75 per stay.  Simply call us or select it at checkout.  It will be added to your charges upon final processing.
Birthday Celebrations
Did someone say Birthday?  Add a birthday bash to your package…we'll hang a banner over the fireplace, and partner that with two helium balloons, a candle for the morning pastry, and the fixings for a morning mimosa.  Select this package at check out.
Fruit Basket
We can prepare a fruit basket to be as simple, or as elaborate as you like.  Base price is $30 and it goes up from there, depending upon the enhancements that you request.
Special Dietary Considerations
We can accommodate most dietary restrictions, including Gluten-free, Keto friendly, vegan, lower calorie, and carbohydrate/sugar restrictions.  Simply notify us one week prior to arrival when time permits. Current surcharges for special diet substitutions are:  (all are per person, per day)
Keto/Low Carbohydrate  $6 – 10; Vegan  $7; Non-dairy:  $ 5; Gluten Free:  $4   If someone in your party requires multiple accommodations, please call for pricing.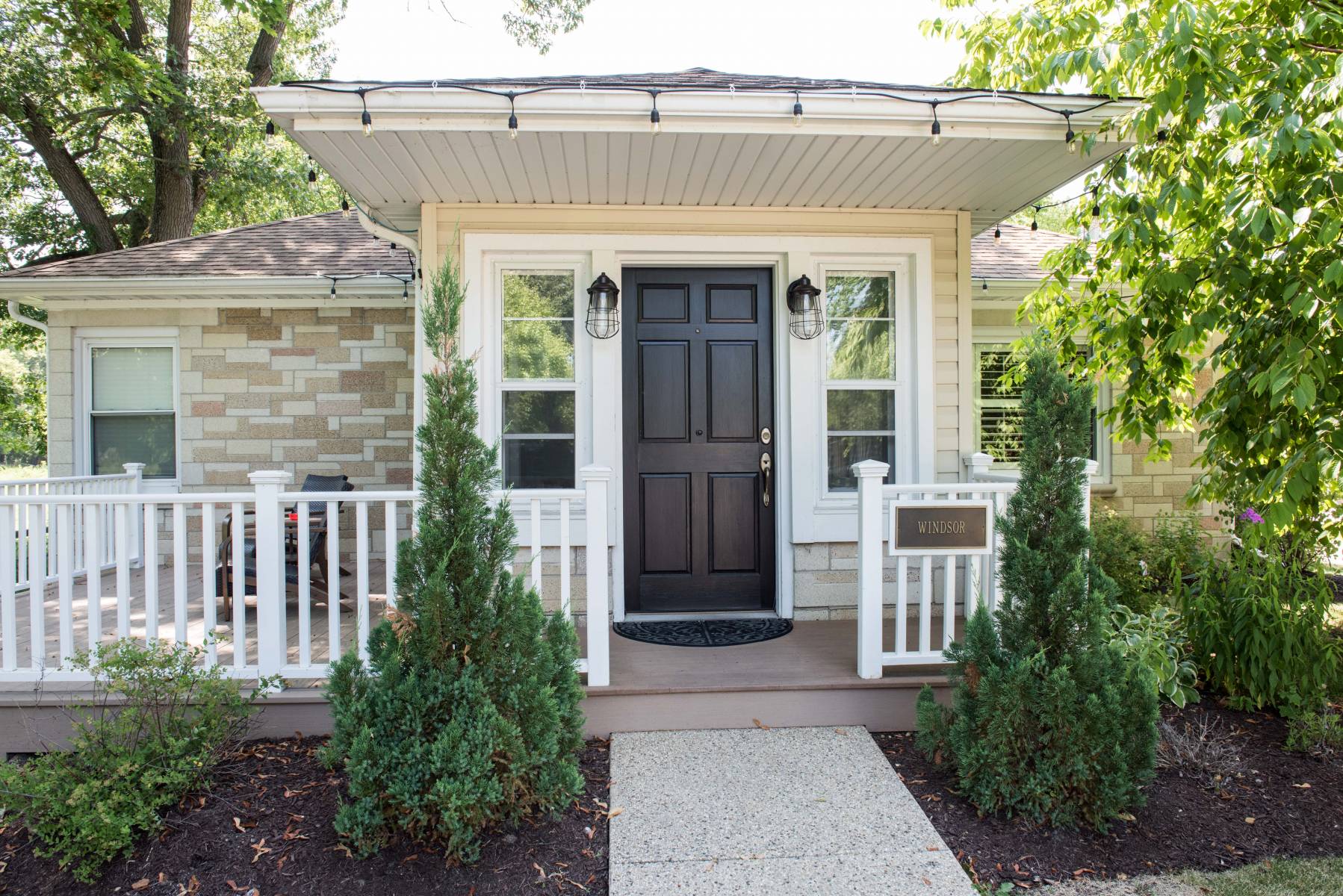 Windsor cottage was the original innkeepers cottage.  It has been fully renovated and is a popular honeymoon cottage with its private expansive wrap around porch.