Things To Do, Dining & More In And Around The Geneva Lake Area
* Please make sure to call ahead as many places may still have limited options and require masks, due to  Covid19 safety measures and precautions.
Covid19 : Up to 10 days prior to your arrival we will re-book your stay for a later date when you are ready, with no fees. If you are at risk or especially concerned, we suggest waiting to book rather than booking and cancelling. For actual updates on the Walworth County current Covid19 situation please click here.
Seven Oaks recommendations for Dining In & Around Lake Geneva
There are many great restaurants in the Geneva Lake's area close to Seven Oaks Bed & Breakfast. Great choices for dining in and around Lake Geneva include Savoy, Sopra Bistro and Cafe Calamari. In addition, there are many options for a more casual dining experience. Try  Oakfire Pizza which is directly across from the lake, or Mama Cimino's for delivery Don't want to leave the comfort of your cozy cottage –  why not order in? You may also want to try the following apps for food delivery : GrubHub, DoorDash and UberEats.
We can highly recommend FLOCK Catering
Chef Laura McGough prepares delicious meals and with advance notice can hand deliver them directly to your cottage.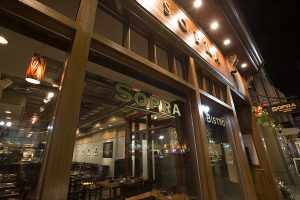 Lake Geneva
Egg Harbor  ( Breakfast & Lunch only )
Joni's Diner (Breakfast & Lunch only)
Barrique Bistro & Wine Bar – Tapas & WIne
Heart & Sol Vegetarian/Vegan/Smoothies – (Breakfast & Lunch Only)
Fontana
Gordy's Boathouse Restaurant & Bar – 
Williams Bay
Cafe Calamari  (Open Mondays )
Gluten Free & Friendly Restaurants:
Visit the Lake Geneva Chamber of Commerce website for more information on local area restaurants and local attractions.
Salon & Spa Treatments
Call 414-324-2496 for details and pricing, and mention SevenOaks to Dale at Element Massage Studio.
Other area massage studios include Clear Waters Salon & Spa.
Day Spas can be found at The Abbey Avani Spa and Grand Geneva Spa.
Day spas abound in the Lake Geneva area as well as individual shops providing hair and nail care or massage.
Geneva Lake Boat Tours & Activities
The absolute jewel of the Lake Geneva area is Geneva Lake itself. The spring fed lake is an 8 mile long, 135 foot deep, glistening glacier cut lake.
On its shores is the city of Lake Geneva, and the villages of Fontana-on-Geneva-Lake, and Williams Bay.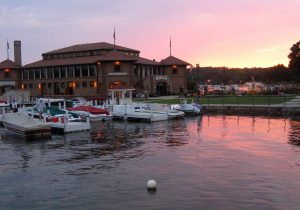 In the summer season, regular boat tours are available leaving from the Riviera Boat Dock in Lake Geneva (cruiselakegeneva.com).  Boats and other water sports equipment can be rented for your enjoyment, at the waterfront from Elmers, Marina Bay, and Clearwater Outdoor.
Please keep in mind that the tour schedule is updated often based on boat
availability, weather conditions and other variables. Please check their website and
call for reservations!
262-248-6206
Hiking, Biking, Skiing, Ice Skating the Lake Path & More
Enjoy hiking, biking, horseback riding and a great variety of other outdoor activities in and around Lake Geneva. Hike all or a portion of the 22-mile footpath around the lake. Take in the natural beauty of the lake. Marvel at the historic man-made mansions, as well as spectacular newer homes on the lakefront. The lake path is beautiful ,however, to go all the way round is a good 22 miles, the section to Williams Bay and back is beautiful and would take around 4/5 hours.
A drive over to Kishwauketoe Nature Conservancy in Williams Bay is definitely worth it, with smaller walking trails of 1-2 hours and then a walk on the Lake Path to Pier 290 for a refreshing drink.
We have a circular walk from the SevenOaks through Big Foot State Park, picking the Lake path up and following into town, then back up Wells Street to SevenOaks, which takes about  1.30/2.30 hours.
Ice Skating can be found in several places in around the Lake Geneva area.
Cycling or biking is a wonderful way to traverse the countryside. Bike rentals are available in Lake Geneva at Avant Cycle Cafe and Springfield ( just outside Lake Geneva) at Pedal & Cup.
Alpine Valley Resort located 30 minutes away, offers downhill ski slopes in the winter and a series of outdoor concerts in the summer. Downhill skiing is also available at the Grand Geneva resort – a ten-minute drive.
Aerial Adventures at 302 E. Townline Rd in Lake Geneva, feature a High Ropes Challenge Course, Climbing Tower, and 2 Zip Lines 900′ long & 600′ long all, in a naturally wooded setting. Opens daily mid-April through October.
Horse & Sleigh Rides
Sleigh Rides, Riding Lessons, Events/Parties, Leisure Riding, & many Clydesdale Horse related activities. Black Clyde Stallion breedings at the Claystone Stock Farms Inc located in Elkhorn , Wisconsin.

Kettle Moraine State Forest
The Kettle Moraine is a short 30 – 45-minute drive. It is known for great hiking trails, off-road biking, horseback riding, and cross country skiing. The La Grange General Store offers everything you need to make your outdoor adventure an experience of a lifetime. They have bike and ski equipment rentals, new and used sales, accessories, clothing, gifts and a cafe/deli all in one cool hangout.
Lake Geneva Canopy Tours
Just 5 minutes from downtown, Lake Geneva Canopy Tours & Outdoor Adventure Center offers 100 acres of outdoor adventure and fun.  Their zip-line tour provides a thrilling, staff-guided, adventure through the tree canopy.
The tour consists of 9 zip-lines, 5 sky bridges, and 3 spiral staircases, and finishes with their 1200′ dual "racing" zip. Their High Ropes Course Excursions offer an obstacle course in the trees. It consists of 16 unique elements that challenge while offering plenty of choices.  Each participant can create their own route through the course.
If you like mountain biking, they offer over 12 miles of wooded mountain bike/hiking trails and customized team building experiences for groups.  Learn more at www.lakegenevacanopytours.com or by calling them at 262 248-9271.
Golf
There are some spectacular golf courses in the Geneva Lake's area.
Within 5 miles of SevenOaks Bed & Breakfast, Hawks View Golf Club offers a challenging 18 hole course – Como Crossing – and an upscale par 3 course – Barn's Hollow. The Grand Geneva has two 18's, The Brute, featuring numerous water hazards and numerous traps and The Highlands, a links-style course.
Within 10 miles, Abbey Springs is a picturesque, challenging course with lots of oaks and several demanding uphill and downhill holes. Geneva National has 3 well manicured, challenging 18's – The Palmer, The Trevino, and The Player, all worthy of their namesakes.
See individual course websites for additional information.
Special Seasonal Events
August/September
Pick your own apples at the Royal Oak Farm Orchard in Harvard, IL
Various festivals or special weekends are offered in the local area. They include the Chocolate Festival in Burlington in late May, the Venetian Festival in August and Winterfest, featuring the National Snow Sculpture at the lakefront in February and The Ice Castles. The later summer finds many local communities hosting corn roasts and barbeques. Click the link to see the latest happenings in the Lake Area Visit Lake Geneva